Tulare Western High School
View Our Daily Bulletin

What's New
Course Requests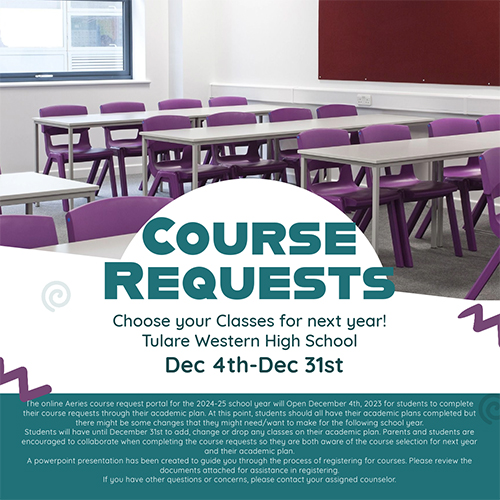 Attention, Tulare Western High School students! Choose your classes for next year from December 4 through December 31. The online Aeries course request portal for the 2024–2025 school year will open on December 4, 2023, for students to complete their course requests through their academic plan. At this point, students should all have their academic plans completed, but there might be some changes that they Mae need/want to make for the following school year.
Students will have until December 31 to add, change, or drop any classes on their academic plan. Parents and students are encouraged to collaborate when completing the course requests so they are both aware of the course selection for the next year and their academic plan.
A PowerPoint presentation has been created to guide you through the process of registering for courses. Please review the documents attached for assistance in registering. If you have other questions or concerns, please contact your assigned counselor.
Read more